On the afternoon of May 13, my gaze zeroed in on a particular email on the upper half of my monitor. "Mr. Reporter, it's Yun Seok-eon." It was the one I'd been waiting for without knowing when it might come. Following a brief greeting, it held replies to several questions I had sent earlier. I scrolled down to check the answer to my last question first.
"How much time did you need to write the answers to my questions?"
"I guess it took more than 12 hours. =)"
This mail was sent from a sickbed in Maryland, USA. Yun Seok-eon (49, left), disabled by a traffic accident in 1991, has lived life for the past 27 years in a state of paralysis from the neck down. A youth who enjoyed going to famous mountains and climbing rocks with his body entrusted to a Seil (mountain climbing rope), all of a sudden one morning saw his whole life being placed in others' hands.
"I was on the way to church, giving a ride to several young people who did not have cars. A large truck came into the lane I was trying to enter, and in the ensuing crash I was thrown out of the car. I stayed in a continuous state of unconsciousness with a brain hemorrhage and damage to my central nervous system, and the hospital said preparations should be made for my funeral, but after 40 days I miraculously awoke."
Mr. Yun spends 24 hours a day lying down. Unable to move even one finger, he must receive help from someone in order to eat and to deal with other physiological needs. It is impossible for him to strike a keyboard. Instead, he inputs letters with his eyes. Using glasses affixed with a special sticker, he moves the cursor to the letter he wants on the monitor, keeps it there for one second, and the desired letter is input.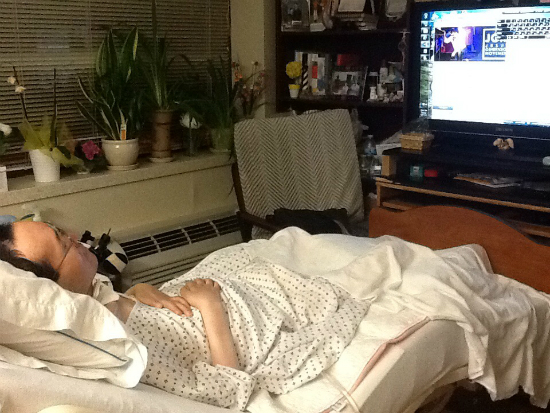 "At first, it took me two or three minutes even to input the letters for 'Annyeonghaseyo (Hello).' Even now, I'm 100 times slower than a non-disabled person, at the 'king of novices' level."
No second miracle came after his awakening from unconsciousness. He suffered so intensely that he was afraid to open his eyes in the morning, and appealed each day, "End this all, God, and take me into your embrace." But God opened the way for his prayer to be heard by others, and sent to Yun's side the persons that were needed. One of them was the same age as him; Missionary Park Su-min (right).
"One day in July 2015 I was listening to an online lecture of World Mission University when I got a message from a fellow student asking, "Shall we be friends?" It was Missionary Park. That moment was the start of my link with a friend sent by God, like a Lotto win."
Missionary Park is a lay missionary who in 1998 went to Warsaw, Poland, where he works for a trading company and spends his weekends doing evangelical activities with local youth. His fateful meeting with Mr. Yun led to as many as 2,000 "email contacts" over the next two years or so, overcoming the time difference of 5~6 hours across the Atlantic Ocean. Though they had never seen each other's face, the two men accumulated shared memories of childhood experiences, mutual encouragement as companions in theological studies, prayer points for the tense mission field, and life confessions that poured out like last words.
Last month the book "I Could Not Move, and He Came To Me" (Poiema) was published, about Mr. Yun's life and the two men's beautiful companionship. It tells the world many stories about life as planned by God, and is the fulfillment of a promise to try to use these for mission and salvation. Missionary Park said in an email to this reporter, "Seok-eon is a 'bed missionary' in company with God, and his existence itself is God's megaphone."
The emails arriving from the US and Poland concluded on good terms with one hope cherished by the two senders. "Today may be my last day arranged by God. But I am looking forward to tomorrow and to continued companionship with my friend in heaven."
Reporter Choi Ki-young (ky710@kmib.co.kr), with Marion Kim (marionkkim@icloud.com)
Photos provided by Yun Seok-eon & Park Su-min
Original Article in Korean:
꼼짝할 수 없는 친구와 나눈 특별한 우정… 전신마비 장애인 윤석언씨·박수민 폴란드 선교사