"For 10 years I've been living as Gojong (高宗), and learned that his uncontrollable vacillating is human nature and the very reason I must continue my endless efforts to be more like God."
These were the words of popera (operatic pop) singer Park Wan (36) when I met him on December 26 last year at a performing arts center in Seocho-gu, Seoul, about his past 10 years with the musical "Empress Myeongseong." He was not wearing the king's crown and red gown with dragon embroidery, but I could recognize the discoveries he has made through playing this character for so long.
"Empress Myeongseong" is one of the best musicals ever created in Korea, and the first one to hit the million audience mark. Since its first performance in 1995, it has been staged 1,300 times over 23 years, accumulating an audience of 1.8 million, and been performed even on Broadway and at West End Theater in the United States. While famous actresses including Yun Seok-hwa, Yi Tae-won, Lee Sang-eun and Kim So-hyeon have played the empress, he has played Gojong for the longest period.
"I stayed there, but my wife kept changing. (He laughed.) I'm proud to have been the longest-playing actor of Gojong, to match the title's weight."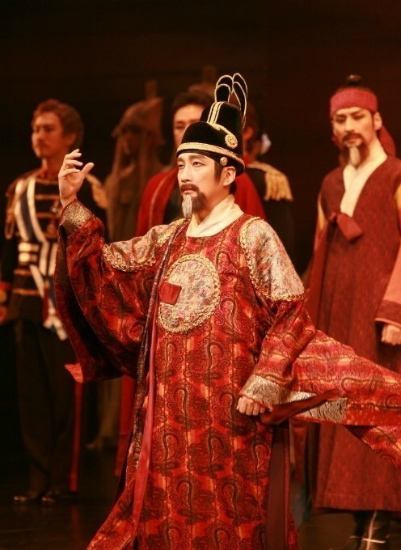 *Park Wan plays King Gojong in the musical's 20th anniversary commemorative performance at Seoul Arts Center in September 2015. Photo provided by Acom.
After about a year of playing Gojong, he got a new sense of the artistic work "Empress" as one of its actors. He said, "It was October 8, 2009, at the special performance at Kumamoto Gakuen University, Japan. It was the day Empress Min had been killed 114 years ago, and Kumamoto is the hometown of 21 of the 48 Japanese persons who participated in the killing. The musical was on stage in the land where the killers' descendants live, and I can never forget the moment when the 700 some members of the Japanese audience were weeping in repentance."
"We had been asked by the Japanese government to change the region where we performed, and even before the actual performance both Korean and Japanese media were responding sensitively. Of course we were worried, but we agreed with producer Yun Ho-jin (representative of Acom) when he said that if we could not perform 'Empress' here, then we were doing nothing more than earning money from our people's painful history. He emphasized that we ought to perform it in front of those for whom we thought the musical had a message."
Growing up, Park had many turns in his life. He first played piano when he was five years old, and surprised people the next year when he received an award at a competition. When he was in middle school, his father, a former national basketball player, suggested that he play basketball, and he was accepted into Whimoon High School, famous for its basketball team. Later, however, he faced limits due to his short height (182cm) for a basketball player. Then he chose to become a singer.
"My father bought me 'The Three Tenors' when I was in middle school. Every day I listened to it over and over. One day after I'd given up becoming a professional basketball player, during a music class I sang 'Lorelei' as a solo, and my teacher suggested that I study vocal music. I didn't know where to begin, but some senior soloists in my church choir showed me the way. I prepared for just one year to enter a vocal music department, and I was accepted."
In 2005, Park made a major change in his career, after spending his college years singing main roles in La Traviata and La Boheme. He competed among 1,100 applicants and won the role of the main character in Gyeoul Yeonga (Winter Sonata). Now he was able to communicate much better with his audience. Park looked back on that time, saying, "God had prepared me for it. I can't explain any other way."
Besides "Empress," Park has played more than 10 characters in "the Sound of Music," "Rebecca," "Ssanghwabyeolgok (Song of Two Flowers)," and other musicals. He considers his two years playing Captain Georg von Trapp as the best, because he was able to share his faith with his co-stars, actress Yang Hui-gyeong and singers Sohyang and Park Gi-yeong. Park said, "When we were exhausted from practice, we would encourage each other by sharing our life and faith stories. Before we went up on stage, we used to hold each other's hands and pray together."
His schedule is so packed that he sleeps no more than five hours a day, and 2018 looks just as busy due to his passionate involvements. He is the art director for next month's concert by Crossover Symphony Orchestra, and the musical "Empress" opens again in March. He also looks forward to singing at his solo concert, already held three years in a row.
"The moment I feel that I'm being used as an instrument of solace for my audience, whether I am singing or acting, I'm happier than I can ever describe. It is God's greatest gift to me."
Reporter Choi Ki-young (ky710@kmib.co.kr), with Yeara Ahn-Park (yap@kmib.co.kr)
Photo by senior reporter Kang Min Seok
Original Article in Korean:
[예수청년] "흔들리는 인간 高宗으로 10년 살며 하나님 닮아가야 할 이유 깨달았죠": 뮤지컬 명성황후 고종역 팝페라 가수 박완