*Choi Tae-min, then chairman of Korea Crusaders for National Salvation, speaks at the organization's Hwarang training workshop on July 16, 1975. -- Video capture from Daehan News.
A document has been found proving that Choi Tae-min (d. 1994), father of Choi Sun-shil, was the head of a sect characterized by religious syncretism. In the early 1970s, Choi was active as an 'envoy' communicating the so-called 'doctrines of Yeongsegye (the spirit world),' and promoted his activity through an advertisement in a newspaper. Kukmin Daily obtained related documents on October 26 from the monthly "Hyeondae Jongkyo (Modern Religion)."
The doctrine of Yeongsegye, according to Envoy Choi, is a union of spirits, harmonizing enlightenment (Buddhism), the advent of the Holy Spirit (Christianity), and Innaecheon (Humans are Heaven) of Chondogyo, a Korean native religion. By definition, an envoy ("chiksa" in Korean) is a messenger delivering the king's order. It looks, therefore, as though Choi identified himself as a messenger delivering the doctrine of Yeongsegye.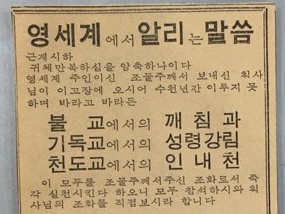 *Part of the commercial section in a newspaper, promoting an information fair of "Yeongsegye doctrines" that was held on May 13, 1973 at a wedding parlour in Daejeon.
The document mentioned is a 299-character ad in Daejonilbo (Daejeon Daily), dated May 13, 1973, and titled "Announcement from Yeongsegye." The ad announces a gathering to be held at 4 p.m. the same day at Hyundae Wedding Parlour in Daeheung-dong, Daejeon, to introduce the Yeongsegye doctrines. The word 'envoy' appears three times.
As for the appropriate audience, the ad indicates "all religious leaders." It reads, "…in hopes that they will inherit the law of Yeongsegye to make a true contribution to all people." It adds, "To all those who suffer from incurable diseases, patients of incurable diseases suffering due to the limitations of modern medicine, and those who worry about any kind of disaster: Please come immediately and discuss the matter with us." This is a typical method used by pseudo religious groups.
The phrases in the ad coincide with the Choi Tae-min investigation report prepared by the Central Intelligence Agency at the time. According to the report, Choi began his activities of religious syncretism, combining Catholicism, Buddhism, and Protestant Christianity, around 1969. The question is now being raised whether or not Choi Tae-min's daughter Choi Sun-shil, who is currently at the center of political controversy for her powerful influence over government affairs, may have succeeded to her father's pseudo religiosity.
Prof. Tark Ji-il of Busan Presbyterian University and board chair of Hyeondae Jongkyo, pointed out, "Choi Tae-min was a character who practiced religious syncretism, and he pretended that he was a Christian pastor in order to participate in the Gugukseongyodan (National Salvation Mission Team) after contacting President Park Geun-hye during the time she was performing official duties as the eldest daughter of former president Park Chung-hee… Political circles, news media, and the Korean church should no longer call Mr. Choi "pastor," nor be fooled about him."
Reporter Sangmok Shin (smshin@kmib.co.kr), with Yeara Ahn-Park (yap@kmib.co.kr)
Original Article in Korean:
[단독] 최태민은 사이비 '영세계' 교주… '목사' 아닌 '칙사' 자처: 본보, 1973년 대전지역 집회 홍보한 신문광고 입수
Related Article:
"Where to, Ewha?" "Minjung servant" Mary Scranton must be weeping...