On November 25, an illegal wrapping bus sat openly at the northern end of Yanghwa Bridge in Seoul. It was covered with harsh criticisms of two representative Korean church ecumenical organizations: the Christian Council of Korea (CCK) and Christian Broadcasting System (CBS).
Against a blue background was written, "Close down corrupt CCK and CBS." Emblazoned in big letters on the bus were the phrases "CCK, descendent of pro-Japanese emperor worshipers," and "Presbyterian Church bowed to the East and swore allegiance to a foreign god."
According to the law pertaining to outdoor advertising, advertisements are permitted on no more than half the available space, not including windows, on the sides of any kind of vehicle including buses. When an advertising wrap violates this law, in the case of a commercial vehicle there is a penalty of up to one year in prison or a fine of up to 10 million won, and a private car owner may be fined up to 5 million won.
A Shincheonji source said in a phone interview with Kukmin Daily, "CCK and CBS are engaging in violations of our human rights, by calling Shincheonji heretical and trying to convert our believers." The source added, "Shincheonji is operating a total of 100 some wrapping buses, one or two in each district. We started this a year ago."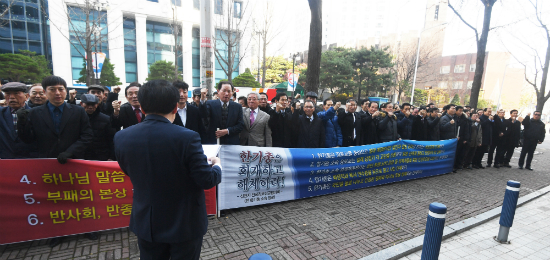 On November 26, Shincheonji held a "Rally To Shut Down CCK" (photo, by senior reporter Kang Min Seok) in front of the CCK office in the Korean Christian Ecumenical Building, located on Kimsangok-no in Jongno-gu, Seoul.
Article and photo by reporter Yeong Dae Yoo (ydyoo@kmib.co.kr), with Marion Kim (marionkkim@icloud.com)
Original Article in Korean:
신천지, 기독교 비난 불법 래핑버스 전국 100여대 운행: 법까지 어겨가며 자극적인 문구 붙인 버스, 도로에 무단 배치