Kukmin Daily Newsletter
Issue 2
February 17, 2019
Seoul, Korea
Happy Lunar New Year!
This issue of our newsletter opens with the results of a survey revealing Korean church members' views on the directions their churches should be heading. Our special series on the March First Independence Movement continues with reports and intriguing finds from 100 years ago. This issue also includes some news highlights loved by our Korean readers. Lastly, we ask that you keep the Korean churches and people in your prayers for peace, as the second North Korea-U.S. summit approaches.
["Most urgent task for churches is to return to essence of early church"]
From this past December 1st to 30th, the Institute for Church Growth surveyed 336 adults in 50 churches nationwide. The participants expressed a strong wish for churches, pastors and believers worthy of the name. (See tables below for details.) ICG Director Kim Hyeong-geun, the survey's designer, commented, "We can recognize their longing for a return to the original essence of the early church. There clearly is a need for countermeasures."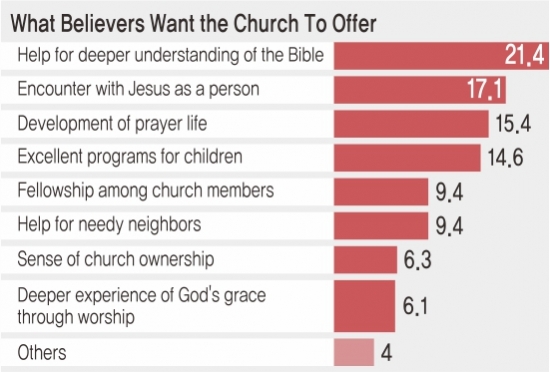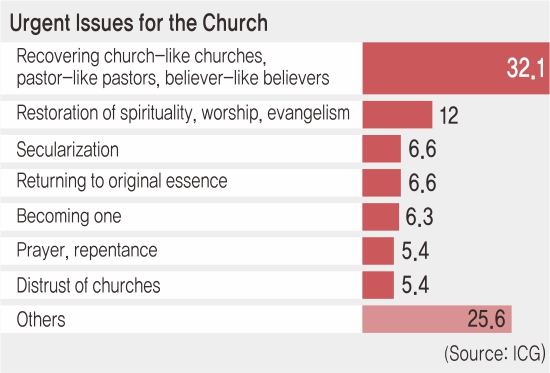 [March 1 Independence Movement Transcended Religious and National Boundaries]
Kim Seung-tae, director of the Institute of the History of Christianity in Korea, has ascribed great historical significance to the March 1, 1919 Independence Movement, calling it "the Korean people's event of rebirth as a modern people, declaring an independent nation of self-governing people." The movement spread through peaceful "mansei" rallies under the armed occupation of imperial Japan. Theologically, it was a model of church participation in history and politics, with the different religions working and sacrificing together for the common good: independence, freedom, justice and peace, which remain Korea's ongoing tasks. Many foreign missionaries at the time supported the movement under the slogan "No neutrality for brutality."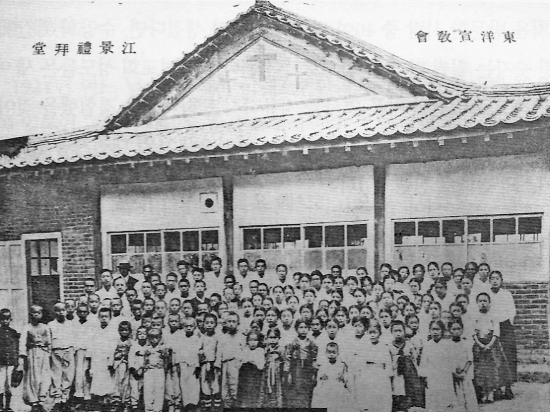 *Photo provided by STU Modern Christianity History Research Institute
Shortly after the 3.1 movement, on March 20, 1919, Japanese police attacked Missionary John Thomas of the One Mission Society (OMS) UK (formerly Oriental Missionary Society), in Ganggyeong, South Chungcheong-do, suspecting him of involvement in the mansei movement. The incident led to a diplomatic battle between England and Japan, then having competing interests in China. Japan concluded the issue by paying Thomas 5,000 yen to leave the country. He contributed part of this to the church building fund for Ganggyeong Holiness Church (above photo), which later became the first church whose members refused Shinto Shrine worship, in 1924. This story was discovered recently in a diplomatic document (photo below) from the time, signed by William Royds, the acting British Consul-General in Seoul, and dated March 24, 1919.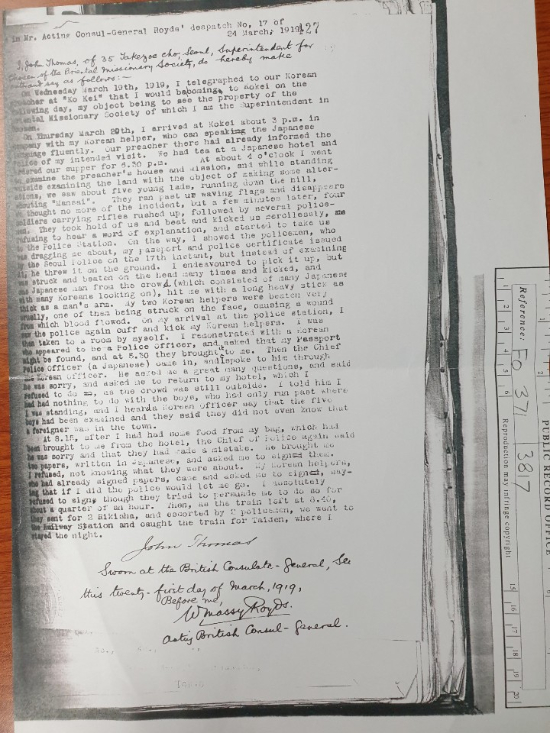 *Photo provided by STU Modern Christianity History Research Institute
Another story told for the first time is that Christians in the U.S. appealed to President Wilson right after the March 1 Movement, requesting help for the Korean people in their suffering under Japanese oppression. Prof. Park Myeong-su of Seoul Theological University, director of the STU Modern Christianity History Research Institute, said he had found an article in the April 3, 1919 issue of "Shinhanminbo" titled "Western fellow believers help Korea" (셔양 교우들이 한국을 도움, top right in photo below), reporting that 128 local pastors and professors and students of Asbury University in Wilmore, Kentucky, wrote this appeal to the president. Shinhanminbo was published by a Korean group in the U.S. It focused on overseas Korean news while providing information on events in Korea, notably Japan's continuing depredations.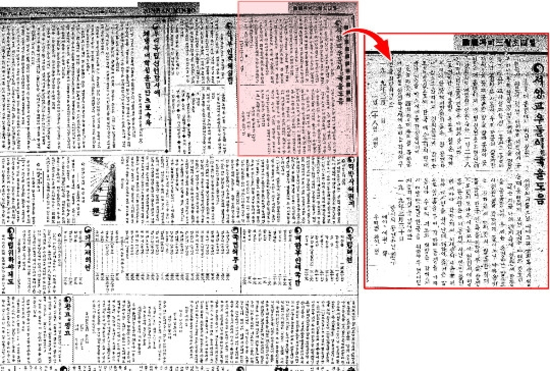 *Photo provided by National Institute of Korean History
[Women Cantata] Why Do Hardships Hit Only Good People? "I wanted to find an answer"
(Biweekly "Women Cantata" features women spiritual leaders.)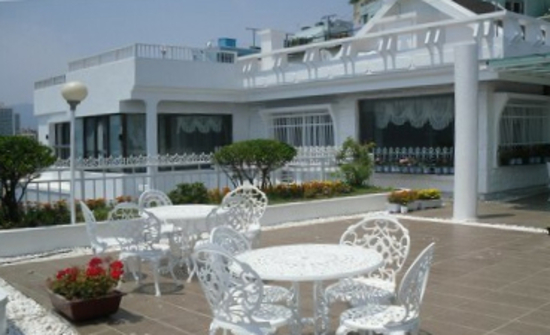 *Terrace of Healing House
Healing House, overlooking the Port of Busan, is a center for single mothers. It was opened in December 2017 by Prof. Byeon Yeong-in of Dongseo University, who for the past 30 years has operated the Holistic Family Institute, of which Healing House is a part. Prof. Byeon was moved by the question of a young couple who had stopped by one day to enjoy the Institute's scenic view: "Pastor, why do hardships come only to good people?" Byeon wanted to find answers to this sincere question, and Healing House is one of them. It provides counseling for victims of family/school/sexual violence, and serves non-Christians as well.
"All of us humans live equally in sin, in a space without windows, mirrors or clocks," Prof. Byeon said. "Of course this is Satan's stratagem. But the moment we grasp God's word, the world of the soul is opened. Will not God's workers be blessed? Healing House is a place cultivating God's character. Some people have offered to pay billions of dollars for this fine house, but for me it is simply my place of ministry."
[Consensus among Churches on Urgent Need to Solve "Comfort Women" Issue]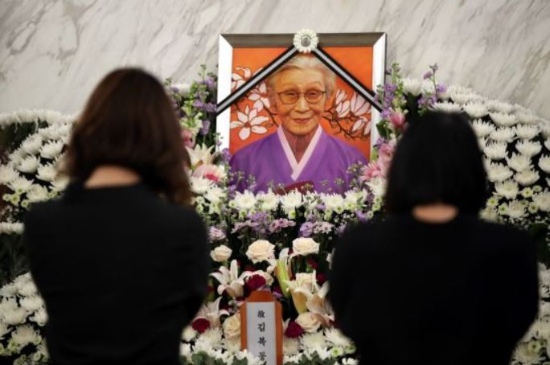 *Photo courtesy of Newsis
Wartime sex slavery survivor and peace activist Kim Bok-dong, the first to disclose the truth about the brutality inflicted on women by the imperial Japanese military regime, passed away on January 28 at the age of 92. Korean Christians of all persuasions joined in remembering her life and demanding a speedy resolution of the "comfort women" issue. What is required is an official apology by the Japanese government, as soon as possible, with many of the survivors having already passed away.
["Restore traditional Korean funeral customs, discard Japanese remnants"]
The mission group Hi Family held an exhibition at Seoul City Hall pointing out vestiges of Japanese colonialism that still affect Korean funeral customs. Prof. Kim Mi-hye of Sorabol College's Department of Funeral Service & Management said, "Hemp clothing, worn by the deceased person and the immediate mourning family, originally was worn by prisoners, but the Japanese forced its use at funerals. Our ancestors in fact dressed the deceased in colorful, fancy clothes. The armband was initiated by the Japanese as a way to distinguish funeral organizers from participants and prevent the gathered people from engaging in independence movement discussion. The currently used chrysanthemum is the symbol of the Japanese royal family, while the Korean traditional funeral flower is Suparyeon. Christians are encouraged to reform the system by choosing clothes and flowers loved by the departed person.
[Bitoreum Mission Church: Members from 16 Countries, 5 Foreign-Language Churches]
Bitoreum Mission Church in Yangju was founded in a shipping container in February 2006, by Rev. Lee Hyeong-no, then a banker, and his wife Baek Gyeong-hui. They began their ministry for migrant workers and marriage migrants in 2009, and today their church has members from 16 different countries including Nepal, Vietnam, Cambodia, Bangladesh and Thailand. Now in an actual building, Sunday worship this January 13 was attended by 70 Koreans and 150 migrants. Separate Nepalese, Vietnamese, and Cambodian churches have been established here, and will soon be joined by Mongolian and Thai churches. The Christian faith is often not the first attraction; people come to learn Korean, ask help with visa problems or work arbitration, get medical care, haircuts or other services. Rev. Lee said the migrant workers can be "precious mission resources" who convey a good image of Korea while spreading God's word back home. He said it makes more sense to evangelize foreigners who come to Korea, than to go abroad and face language and living difficulties. He expressed the wish for more co-workers in the church's migrant workers' ministry.