On March 31, the General Assembly of the Presbyterian Church of Korea (PCK Hapdong) opened a Christian History Museum on the first floor of the PCK Hapdong Building in Gangnam-gu, Seoul. The museum holds some 200 historical relics of the Korean and world Presbyterian churches, from papyrus pieces of the Bible in Aramaic and Greek from fourth century A.D., and a Torah scroll from the 14th century, to a copy of the first edition of John Calvin's "Institutes of the Christian Religion."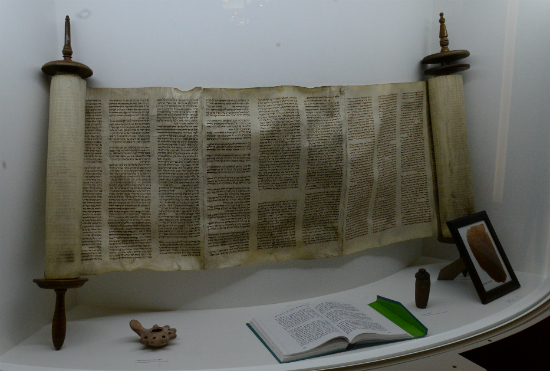 The collection also includes a 1920s-era map of the Joseon Christian Presbyterian Church's mission plans in Manchuria and Mongolia regions; a Sunday worship bulletin proving that Japanese emperor worship was forced on Christians during the Japanese colonial period; Chilgeukbogam (七克寶鑑, seven problems to overcome in faith life) by missionary S. Moffett; and handwritten letters by Dr. Jeongam Park Yun-seon (1905∼1988).
In the top photo, Rev. Jeong Seong-gu (far right), director of the Korean Calvinist Research Institute, explains how the Torah scroll was used in Jewish synagogues in the 14th century.

Reporter Choi Ki-young (ky710@kmib.co.kr), with Yeara Ahn-Park (yap@kmib.co.kr)
Photo by senior reporter Kang Min Seok
Full Story in Korean:
예장합동 역사관, 두루마리 토라·칼뱅의 '기독교 강요' 등 눈길: 총회 설립 105년 만에 세운 예장합동 역사관을 가다