"What is the chief end of you?"
By Hwang Hui-sang, translated by Joo Haeyoung & Casey Marlarcher, Black Bear Books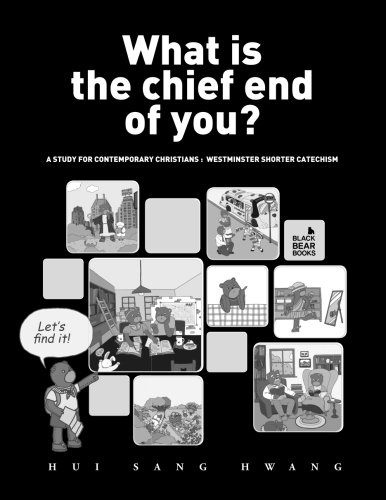 "A Special Lecture on the Westminster Shorter Catechism" (Black Bear Books), which opened a new horizon as a creed study guide, has been translated into English and is on sale at online distributor Amazon. A six-year effort has come to fruition. Many requests had come from mission fields and Korean churches overseas to have the book translated into English.
On June 5, I met publisher Jeong Seol (left in top photo) and her husband Hwang Hui-sang, the author of this book, at the Black Bear Books office in Mapo-gu, Seoul. Jeong explained, "We first began the translation project for King's College of the Philippines and for local missionaries. Our hearts were moved by the practical problem in the mission field, that there was no textbook teaching creeds and nurturing believers to become local pastors."
Of the Korean version, first published in 2011, more than 70,000 copies have been sold. Hwang, in the process of giving lectures at the invitation of domestic and overseas Korean churches, came to learn that Korean churches in the U.S. needed an English version of "A Special Lecture." He said, "There was no tool of any kind to connect the faith tradition between the Korean-speaking parents' generation and the children's generation with English as their language of communication."
The title of the English version, "What is the chief end of you?", personalizes the first question of the Westminster Shorter Catechism: "What is the chief end of man?"
"Busy for Self, Lazy for God"
By Rev. Kim Nam-joon, translated by Charles Kim and Pierce T. Hibbs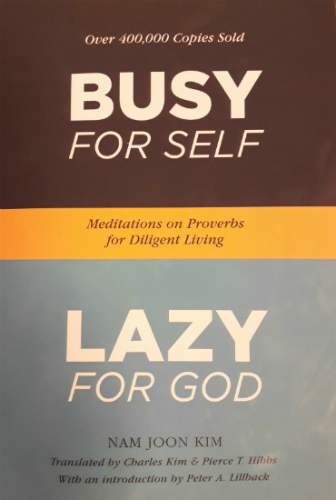 An English translation of "Lazy" (Word of Life Press), a bestseller authored by Rev. Kim Nam-joon of Yullin Church, has been officially published by Westminster Theological Seminary with the title "Busy for Self, Lazy for God." Significantly, this is the first time for an established Reformed seminary to have directly translated and introduced a book by a Korean Reformed pastor.
The book first appeared in Korea in September 2003. Through meditations on the book of Proverb, showing that laziness is a big enemy to Christians trying to live a holy life, its message drew a positive reader response. 350,000 copies were sold in Korea, and official translations were published in China and Taiwan.
Meanwhile, a reputable publisher was needed if the book was to advance in the English-speaking world. Rev. Kim tried various ways to make this happen, but without success. Then in 2015, when he had nearly lost his will, Westminster Seminary President Peter Lillback proposed that the book be translated. Lillback, admiring the book's message of transcendence for the times, recommended the best translator and editor and supported the book all the way through publication. The translation was done jointly by Charles Kim and Pierce Hibbs, associate director of Westminster's Center for Theological Writing.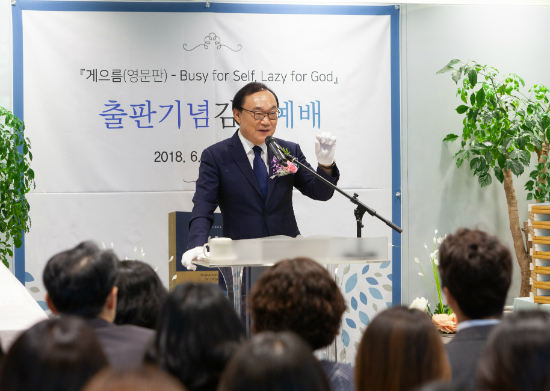 On June 5, a "worship of thanks for publication of the English version of 'Lazy'" was held at Yullim Church in Anyang, Gyeonggi-do. Rev. Kim (speaking in photo above)'s voice was choked with emotion when he spoke during the service. "During the last three years, I struggled till it looked impossible and I was about to give up, but now the book has come out," he said. "My single hope throughout the process of writing the book and getting it translated was that it would awaken people, and that they would live according to their awakening…I hope it will awaken those who do not know the truth, who are living in darkness and depression, and will help them enjoy life with God." Rev. Kim has decided to donate the royalties from the book's English version over the next 10 years to the publishing ministry of Westminster Seminary.
Reporter Narae Kim (narae@kmib.co.kr), with Marion Kim (marionkkim@icloud.com) & Yeara Ahn-Park (yap@kmib.co.kr)
Full Story in Korean:
토종 신앙서적 2권, 영어권 독자들 만난다: 김남준 목사 베스트셀러 '게으름, 교리학습서 새 지평 연 '특강 소요리문답'