On July 9, Darrion Skinner (photo) of the "Here's My Heart" ex-gay organization in the United States spoke at the 26th Truth Forum, held at Gwanaksa, a dormitory at Seoul National University. He opened his lecture by saying, "Since I accepted Jesus, I have quit life as a homosexual. Now I'm at peace."
There was some noise in the audience. Members of a gay group were sitting at the front with handheld pickets that read, "Stop hating gender minorities!" (photo). Before the lecture began, they distributed a handout stating their position in support of homosexuals. They questioned somewhat aggressively, "What makes you say homosexual love is fake?" "Is it true that Christians are against homosexuality?" Tension was in the air for a few moments.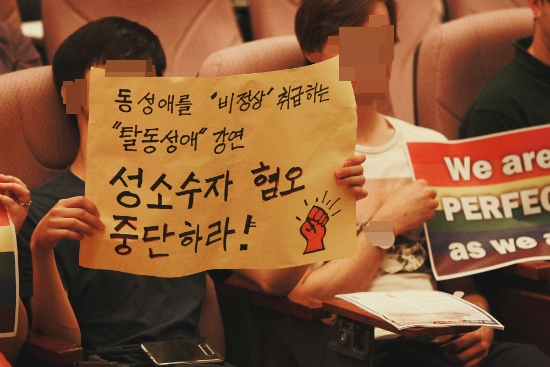 Skinner, however, was confident and unreserved in speaking about the Gospel. He has ended his homosexual life and currently is involved with the ex-gay movement, pursuing the ultimate cure for homosexuals. He has been invited to speak at the Holy Festival on the 14th, the counter-rally of the Seoul Queer Culture Festival to be held in Seoul Plaza, the Ex-Gay Human Rights Forum, evangelism events for LGBT persons, and an ex-gays workshop.
Skinner confessed that he was raped by his cousin at the age of six, and since then had lived as a homosexual. "I was born to a pastor's family, but after that happened at the church, I strayed from my faith life and church altogether. I repeatedly met and broke up with new boyfriends. I was in the military service in Korea and Afghanistan, during which my homosexual life continued."
He said he had lived in confusion and pain. "I would go to hell in my dreams, and I realized homosexuality is a sin… When I returned to God and became God's child again, the homosexual desire disappeared." Warm conversations with his pastor father, too, have helped him escape homosexuality. Now he has met a woman he loves and is living a happy married life.
He always reads the Bible and prays. Together with fellow Christians he has established the mission organizations "Lion's Remnant" and "Here's My Heart." Ex-gay refers to those who have escaped homosexuality or who wish to escape. Skinner advised homosexual persons, "Don't think you can live your life as you wish…We human beings are not perfect. We have to take up the cross and follow Jesus. That is true love."
Reporter Yeong Dae Yoo (ydyoo@kmib.co.kr)
Original Article in Korean:
"하나님 자녀 되자 동성애 욕망 사그라져": 美 탈동성애 단체 데리온 스키너 대표 고백