Due to citizens' opposition, the Incheon Queer Festival, scheduled on September 8 at Dong Incheon Station North Plaza, could not be held as planned.
Even though the Incheon Dong-gu District Office had not granted permission, the Incheon Queer Cultural Festival organizing committee tried to hold the event anyway, starting at 11 a.m. Thereupon 1,000 some persons, including Incheon Songlim Elementary School parents opposed to homosexuality, protested with pickets reading "No homosexuality" (top photo), and shouted, "Go home!"
With their event blocked, the participants walked around holding various kinds of banners as they sought to hold the festival and parade. But their efforts were completely blocked by citizens who had gathered to stop the illegal event. This was the second time for a queer parade to be obstructed, following the same outcome at last June's Daegu Queer Festival.
As the Queer event was being demobilized, its participants attacked the Korean church, which has continued to criticize those who encourage and promote homosexuality. Han Chae-yun, who headed the planning team for the Seoul Queer Festival, commented on SNS, "The conservative Protestant powers of hate will clamor about how they won today, but our fight must be full scale from now on… Let's generate discussion on whether it's really all right for the Protestant churches to be doing as they are, and deliver them genuine defeat."
On this day the police deployed 840 forces from 7 companies, and prevented collision between the two sides. In the process, Rev. Tak Dong-il (43, photo below) was handcuffed and detained by the police, who drew criticism for excessive use of force. A source at the Seoul Metropolitan Police Agency explained, "The homosexuals did not receive a permit to use the plaza, but they did notify us about the event… Rev. Tak, however, forced his way into the plaza and violently resisted the police when they tried to restrain him, so he was handcuffed." When asked by a reporter, "Do you handcuff persons at other gatherings when they express opposition?" this source replied, "Every situation is different."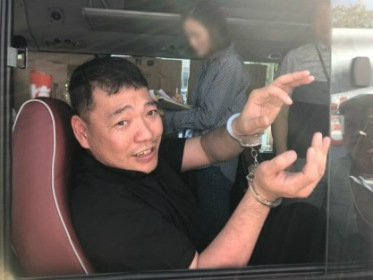 Reporter Paek Sang-hyun (100sh@kmib.co.kr), from Incheon
Photo provided by the Incheon Christian Council
Full Story in Korean:
시민 1000여명 "동성애 반대"… 인천퀴어행사 무산: 학부모 등 반대로 퍼레이드 못해… 주최 측 "한국교회 때문" 비난