It was December 23, 1950. The Meredith Victory (photo, from Wikipedia), a cargo ship with a maximum capacity of 60 persons, was loaded with 14,000 war refugees off the port of Heungnam. The civil commercial ship had been mobilized for the Korean War, and was the last ship out of Heungnam during the pull-out after the Battle of Chosin Reservoir. For a cargo ship, the Meredith Victory was small, but it did not lose anyone until it arrived at the port of Geoje, South Gyeongsang-do. The late Captain Leonard LaRue recalled, "God's own hand was at the helm of my ship on the dark Korean ocean. I witnessed a Christmas miracle."
After the war, Captain LaRue joined an abbey and lived as a religious brother for 47 years. Asked why he became a brother, he answered, "Because to love God is the greatest love, and to seek God is the greatest achievement of a human being." In 2004, the Meredith Victory was recorded in the Book of Guinness for the "largest evacuation from land by a single ship." Among those on board the ship were the parents of current President Moon Jae-in.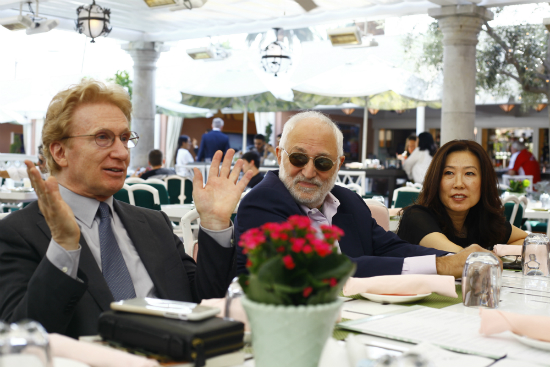 The story of the Meredith Victory came to the attention of the producers' group of Director Jonathan Sanger of Hollywood, U.S.A. On October 23 (local time), at the Beverly Hills Hotel in Los Angeles, CA, we met him together with Board Chair Song Gi-hak of the Korean Informational Association, producer Gregory Market, and film writer Mary Ting (photo, from left to right).
Because the story deals with Americans during the Korean War, the production process cannot help taking into consideration the political relationships among North Korea, South Korea and the U.S. Board Chair Song said, "The movie has to be one that the South, the North and the U.S. can all sympathize with." Director Sanger said, "In this world there are no heroes or villains. I'll make it a story of ordinary people, and keep politics out of it."
Christmas 2020 will be the 70th anniversary of the Meredith Victory's arrival at the dock of Geoje Port. As a peaceful atmosphere has begun to flourish on the Korean peninsula, Director Sanger must have judged that the time is right to make this film.
Article and photo by reporter DongWoo Kim (love@kmib.co.kr), from Los Angeles (USA), with Yeara Ahn-Park (yap@kmib.co.kr)
Original Article in Korean:
'메러디스 빅토리호' 영화화… 2020년까지 완성 공감대: 정원 60명 화물선이 피란민 1만4000여명 전원 구출… "하나님의 손길이 키를 잡고 있었다"