[Church members listen to a sermon in their church, its roof destroyed by bombing, near Wonsan, northern Korea, in November 1950. This was during the period when the UN forces had expanded into the north and temporarily reclaimed this area. The Institute for Military History said about the photo, "It appears to be northern Christians, who had been persecuted, holding a worship service to welcome and thank the just-arrived UN troops." Because there were good persons praying to God even amidst the ruins, we have been able to receive the legacy of faith.]
Major Nam Bo-ram (41), who is in charge of negotiations and domestic acquisition of declassified documents from the United States government, at the Institute for Military History (Ministry of National Defense), said on June 15, "Inspecting the documents of the U.S. Army 1st Corps from the time of the Korean War, we can see that the U.S. soldiers not only fought, but also worked to disseminate Christian culture in Korea…Some soldiers shared their battle rations with orphans, and military chaplains held worship services with civilians in tent churches at Christmas and other times."
According to the photos, the first to be offered to Kukmin Daily by the Institute for Military History, a large-scale worship service was held at the war prisoners internment camp in Geoje-do. Ranking U.S. Army chaplains evangelized and baptized Korean soldiers, officers and workers. "We also discovered the very first color Bible comics in Korean, made by the U.S. military to evangelize Koreans," Maj. Nam said. "We are in the process of analyzing the 40 some boxes of chaplains' materials, which also include all kinds of reports, statistical charts, etc."
Among the 140 U.S. military chaplains involved in the Korean War, 13 were killed in the line of duty and 26 were wounded. "The Korean War was an ideological war. The communist nations treated human life lightly, and oppressed religious and spiritual culture. On the other hand, liberal nations endeavored to protect these," Maj. Nam said. From 2012~2013, Nam worked as a dispatched researcher at the U.S. National Archives and Records Administration, and as an exchange researcher at the U.S. Army Research Institute.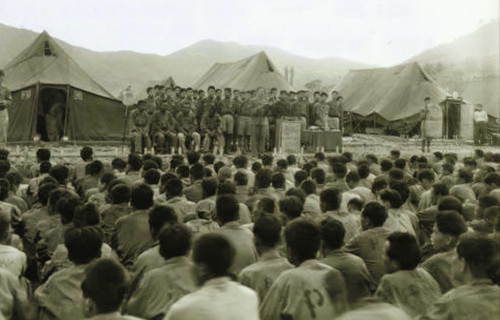 U.S. native Rev. Harol Voelkel (Korean name: Ok Ho-yeol) holds a worship service together with communist soldiers at the war prisoners camp in Geoje-do, February 1951.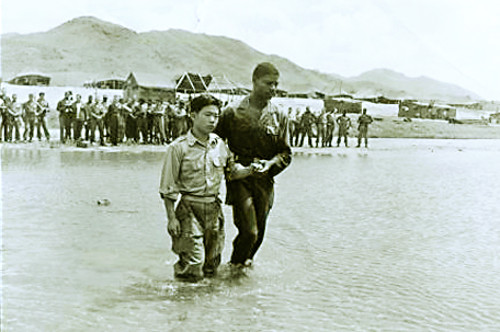 Korean soldier Lee Hyeong-hwan receives baptism with the guidance of U.S. Army officer Hubert Engram, near Seoul, around August 1952. The Institute for Military History said, "Looking at Lee's clothes, he must have been a civilian attached to the U.S. 8th Army, or an interpreter."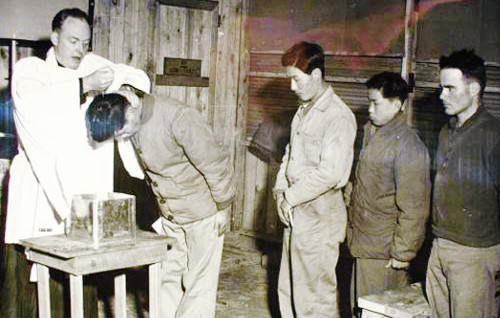 U.S. Navy chaplain Alexander Boyer baptizes a Korean worker employed at his base, in the winter of 1952.
Reporter Kang Ju-hwa (rula@kmib.co.kr), with Yeara Ahn-Park (yap@kmib.co.kr)
Photo courtesy of Institute for Military History
Click here for the original article in Korean
Related Article in Korea