[Lee Jee Hyun's Christian Literature Travel Log: Cheon Sang-byeong]
"I'll go back to heaven again. / Hand in hand with the dew / that vanishes at the touch of dawn's light, / I'll go back to heaven again. / Sunset's glow and I, just the two of us / playing at the mountain's edge till a cloud signals; / I'll go back to heaven again. / At the end of my outing to this beautiful world / I'll go back and say: It was beautiful…"
This is the full text of "Back to Heaven," the best known poem of poet Cheon Sang-byeong (1930~1993), who transcended the weariness of life and even the sadness of death, and sang of life on this earth as a beautiful outing. Published in June 1970, its subtitle is "The Lord's Day." That the poet did not fear death was probably due to his hope in Heaven. Poet Cheon liked makkeoli (a Korean traditional liquor) and his unusual behavior made him seem distant from the church, but he was a person who loved God's Word. Because he believed firmly in God, he did not regard misfortune as something to be feared.
"I'm the happiest man / in the world. / Since my wife runs a cafe / there's no problem making ends meet; / I went to university / so I'm not short on learning; / because I'm a poet / I'm sufficiently honored… / Not only that, / I believe firmly in God; / and since the mightiest person / in the cosmos / has my back, / what misfortune can come?" (From "Happiness")
The Poet and Yeondong Church
Poet Cheon, who came "on an outing to this beautiful world" and has returned to Heaven, began attending worship together with his wife at Yeondong Church in Jung-gu, Seoul, in 1981. Every Sunday, they sat in the very front row (top photo) of the third-floor worship hall. During the service, he would sometimes weep, and sometimes laugh. And during prayers, he often said, "God, forgive me, grant me your forgiveness." At the close of worship, he would go down to the first floor and exchange greetings with Rev. Kim Hyeong-tae, the pastor at that time.
Cheon originally was a Catholic believer. What moved him to go to Yeondong Church was Rev. Kim's sermons, which he heard over Christian Broadcasting radio. On his first day at the church, he said, "Reverend, I'm a Catholic, and I'm no traitor. But I like your sermons, and I've come to hear them." This feeling is clearly revealed in his poem "Yeondong Church," published in the February 1981 issue of "Hyundae Munhak" (Modern Literature).
"For about 30 years I / attended Myeongdong Catholic Church, / and I'm an honorable Catholic, / but ever since 1981/ I go to Protestant Yeondong Church. / Its head pastor, Rev. Kim Hyeong-tae, / is a great pastor, too. / I heard him preach two sermons / on Christian Broadcasting System / and at last I decided to attend / his Yeondong Church. / The structure of the sanctuary / is very churchlike; / quiet and cosy, it gives a happy feeling. / My wife was already going to Yeondong Church / while I stuck with the Catholic Church, / going to Myeongdong Church alone; / but since 1981 it's different. / It was so good, going even once, that / from now on I'll only go to Yeondong Church. / Needless to say, I'm not converting; / I certainly don't want to hear the word 'traitor.'"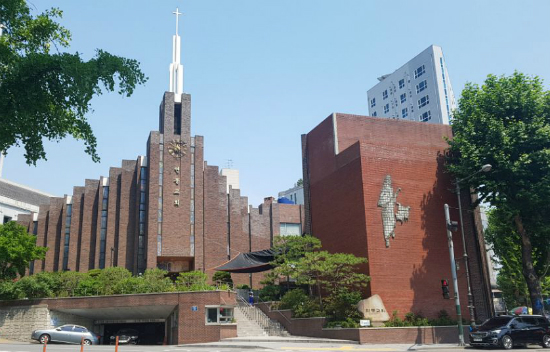 *Yeondong Church in Jongno-gu, Seoul.
On June 18, I visited Yeondong Church, hoping to encounter traces of this poet. After attending Sunday worship, I talked with head pastor Rev. Lee Seong-hui outside the first-floor sanctuary. "I never met poet Cheon, because he had passed away by the time I was appointed pastor here," he said. "But I heard that he was baptized by Pastor Emeritus Kim Hyeong-tae and lived a life of faith."
Along the way of his life outing, the poet experienced many joys and many sufferings. Born in Himeji, Hyogo Prefecture in Japan, he returned to Korea upon Liberation and enrolled as a third-year student at Masan Middle School. His literary talents caught the eye of poet Kim Chun-su, then a teacher of Korean at the school, and he blossomed under Kim's instruction. In 1950, when he was a fifth-year middle school student, his poetry was published in a literary magazine at the recommendation of poet Yu Chi-hwan. "It was my good luck to have a friend in the same class who was the nephew of Teacher Kim Chun-su. Through that friend, whom I met as a fifth-year student, I came to know that Teacher Kim Chun-su was the author of the poem collection 'Clouds and Roses.' So I borrowed that collection from him and read it. It moved me deeply and I made up my mind to write poems, too." (From "Holding Grandmother's Hand and Walking at the Seashore")
After completing his studies in the College of Commerce at Seoul National University, poet Cheon wrote poems and was active as a critic. In 1964 he worked as communication secretary for Busan mayor; then in 1967, along with Yun I-sang and others, he was implicated in a fabricated "spy ring" incident and unjustly imprisoned. As a result of torture his body was greatly weakened, leading him to reflect deeply on life and death.
With his injured body and mind, he thought of himself as a bird trapped in a birdcage. His poem "Gwicheon," a simple, beautiful expression of the heavy theme of death, was written during this time. He was 40 years old, and he felt that he was dying. "The thin, satisfied smile on my lips / is a flimsy rope bridge / suspended lightly between life and death. / A bird soars over the bridge. / Row with the two oars of / friendship and resolute courage… / Come to this sunlit hill, / my friend. / Going from hill to hill / you'll have to cross many oceans, but / come to this sunlit hill, / my friend…" (From "Smile ? Bird")
Come To This Sunlit Hill"
In 1972, poet Cheon married Mok Ok-sun, with Teacher Kim Dong-ri officiating at their wedding, and they found a place to live in the foothills of Mt. Surak in Sanggye-dong, Seoul. Their settling in this place beneath Mt. Surak was a big turning point in the poet's life. It was life in the margins, but this was reflected affirmatively in his mind. His wife was the younger sister of Cheon's friend, poet Mok Sun-bok. From 1985, she operated the cafe Gwicheon in Insadong, staying at the poet's side. Since her death in 2010, Mok's niece has operated the cafe.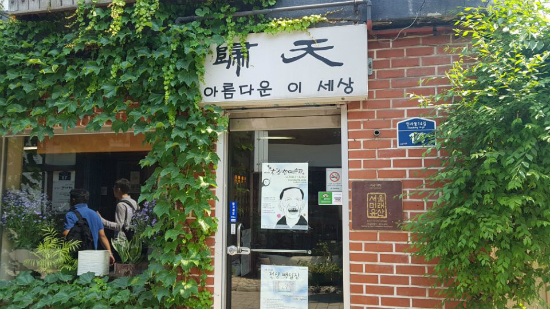 *Cafe Gwicheon now
"The sky is Heaven's message / and the clouds are its translators: / Tomorrow rain will come. / Mt. Surak grumpily faces away from me. / It's teeming with Sunday climbers. / The trees are peace on earth. / From our thatched roof, farm-style house / it's about an hour to downtown Seoul. / Here is always a peaceful world. / I devote myself to napping; / in my dreams I translate messages, / become a dragon, a butterfly." (From "Lower Mt. Surak")
A "Cheon Sang-byeong Theme Park" has been created at the entrance to the Mt. Surak hiking trail. In the park is a statue of Cheon Sang-byeong, his openhearted, innocent smile lighting his face, and children hanging from his arms; there is also a pavilion bearing the name "Gwicheon Jeong." An engraved wooden sign at the entrance to the "Cheon Sang-byeong Walking Trail" announces: "Beautiful Outing Cheon Sang-byeong Mountain Path." Following the stream, I met a succession of wooden signs engraved with Cheon's poems. Listening to the sound of the water while enjoying the poems, I felt my lost sensibility returning.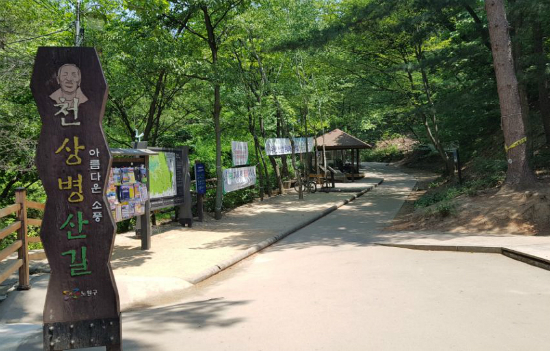 *Cheon Sang-byeong Trailhead in Surak Mountain
For Cheon Sang-byeong, a good poem was one that was easy to read. "A poem that feels 'difficult' is not a poem. I think a poem is good if you can read it like an essay. A poem is something that makes you think about the source of life in the midst of insignificant happenings. I believe faith and life are the basis of poetry. For me, there is no margin for the intrusion of difficult words." (From "Meaning in My Poems")
The Poet and Anmyeon-do
The Sanggye-dong house he had lived in was demolished, and in its place now stands an apartment building. In 2004, Mo Jong-in, a close acquaintance of poet Cheon, heard from Ms. Mok that the poet's old house at the foot of Mt. Surak was to be cleared away for redevelopment. At his own expense, Mo arranged for the old house to be restored in Daeya-do (Daeya Island), part of Anmyeon-do in Chungnam Province.
Passing through Anmyeon-eup in Anmyeon-do on the way to Yeongmok, you come to a three-way junction with the sign "Poet Cheon Sang-byeong's Old House." The house sits atop a small hill overlooking Cheonsu Bay. It is a little over 10 pyeong (33 square meters) in area. Its walls are cement blocks, its roof is slate, and it has three rooms. In the middle room I found a low table holding literary magazines and manuscript paper. It gave me a feeling of the poet and his openhearted, innocent, generous life. The sunlight, which he called 'Jesus,' was flowing into the room together with the sea wind through the open door of the old house.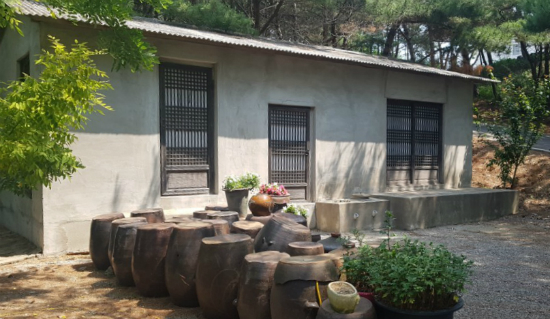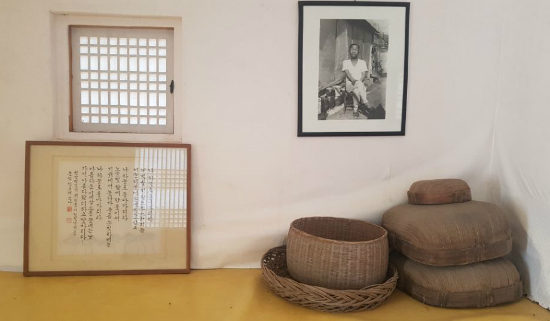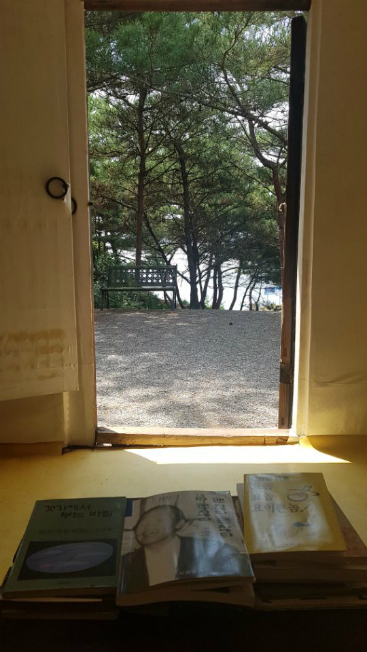 *Poet Cheon Sang-byeong's Old House in Anmyeondo
"Day is lighted by the sun, / night by electricity and lamplight. / My light in life is Jesus, / and my light in death is Jesus… / My life, / you must not turn away from the light." (From "Light")
"Jesus, Jesus, / please come back. / If you do not, / I'm like a speck of dust." (From "Jesus Portrait")
■ Living Like Cheon Sang-byeong:
Jesus told us not to worry, so why disobey?
"Poverty is my occupation, but / I can sit with dignity in this sunshine / because the sunshine probably has no bankbook either…" (from "My Poverty")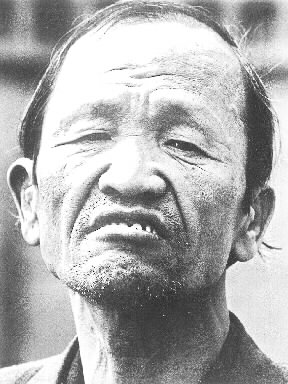 Poet Cheon Sang-byeong (photo) was poor but happy. Though his life was imbued with poverty and suffering, his poetic phrases consistently describe him as "the happiest man in the world." For him, poverty was not unavoidable suffering, but choice. He thought if he immersed himself in material wealth, he would not be able to see into the depths of his consciousness. He quit school one semester before graduation. Responding to close acquaintances who tried to dissuade him, he said, "Since I have become a poet and a critic, what more can I hope for? If I become a white-collar worker, I'll be earning money, and while earning money, it will be hard to live as a genuine poet." No one could understand his choice.
But his poems perfectly reveal the true meaning of "Blessed are the poor in spirit, for theirs is the kingdom of heaven" (Matthew 5:3). "The world just casually says / we should laugh, but for me / there's no tomorrow / and no worries. / Jesus told us not to worry, / so why disobey?" (From "I'm Happy")
"Though I'm so poor I'm shabby, / I have no shortage of human life… / I only give thanks to Heaven. / Though poor like this, / I taste the greatest happiness. / Money and happiness are not related. / The rich have to go through a needle's eye." (From "My Poverty")
Cheon Sang-byeong, who was called "the literary world's last true poet," wrote poems that were concise compressions of such themes as the origin of the cosmos, life and death, and the poignancy of life. He is remembered by many as the possessor of an utterly lucid, transparent soul.
Article and photos by senior Reporter Lee Jee Hyun (jeehl@kmib.co.kr), from Anmyeondo, with Marion Kim (marionkkim@icloud.com)
Original Article in Korean:
[이지현의 기독문학기행] 세상 소풍왔다 떠난 자리, 행복을 남기다: '귀천' 시인 천상병, 서울 연동교회와 안면도에 복원한 옛집