On August 13, a ceremony was held in the garden of Onsuri Church (Fr. Kim Yeong-hwoe) of the Korean Anglican Church in Ganghwa-gun, Gilsang-myeon, Incheon, to unveil an independence movement monument to Fr. Cho Gwang-won. Approximately 100 church members, staff members of Gilsang-myeon Office, and family members of Fr. Cho Gwang-won (1897∼1972) gathered to commemorate his life. During the occupation by Imperial Japan, Cho took the lead in the Independence Movement and in mission for Koreans in Hawaii.
A quote from the article "Rights and Thoughts," written by Fr. Cho in 1944 for "Gukminbo" (People's Bulletin), is engraved on the monument: "This is the 40th year since Japan stole our land. We have shed blood to recover the land, and our rights will be everlasting."
Born in 1897 in Ganghwa-gun, Cho was dispatched to Honolulu, Hawaii, in 1923 by Bishop Mark N. Trollope. While studying at 'Iolani School, Cho played a key role in the construction of St. Luke Korean Church, evangelized Korean residents, and taught Korean language. In 1931, he was ordained by Diocesan Bishop Samuel Harrington Littell, and became the first Korean Anglican Church member to be ordained overseas.
The same year, Fr. Cho joined the Korean Independence Group, led by independence activist Park Yong-man, and took part in the publication of the Hawaii branch's bulletin "Taepyeongyang Shisa" (Pacific Currents). In 1941, when the Pacific War broke out, Fr. Cho organized the Korean Self-Defence Group, hunted Japanese spies, and created an independence fund.
Cho participated in the Battle of Saipan in 1944 as a priest member of the United States Marines. He went into the civilian prisoner of war camp and tried to rescue Koreans who had been forcibly drafted. Fr. Cho's activities appeared in the newspaper "Stars and Stripes." Following Korean independence, he served as a professor at St. Michael's Seminary (the forerunner of Sungkonghoe University). The Korean government posthumously conferred him with the National Medal (Aejokjang) of the Order of Merit for National Foundation.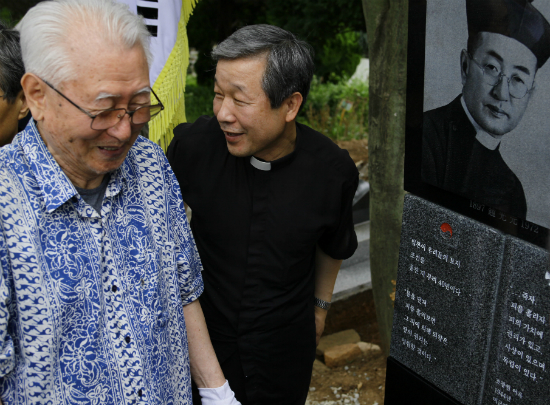 "He was my advisor during my seminary years and cared for me dearly, as if I was his youngest son. I'm proud of him and his sacrifices for our country," said Archbishop Kim Seong-su (left, above photo), who delivered congratulatory remarks at the ceremony. Kim added, "Fr. Cho's love for our country deserves to be highlighted. Today we need to learn again from his patriotism."
Article and photo by reporter DongWoo Kim (love@kmib.co.kr), from Ganghwa, with Yeara Ahn-Park (yap@kmib.co.kr)
Original Article in Korean:
독립운동 위해 바친 삶, 영원히 기억될 것: 조광원 성공회 신부 독립운동기념비 제막식