"Let us be a bridge of life and solace for each other's pain, listening to the voices of suffering and sharing our love." (From Common Prayer to Expand Life-Respecting Culture)
At 6:00 on the evening of May 24, the words of this prayer resounded on Mapo Bridge near the statue "Just once more," depicting someone patting the shoulder of a friend in despair. People were holding pickets that read "Never give up on your tomorrow" and "Promise to tell me when it gets tough, so I can hug you." The Life Hope Christian Center for Suicide Prevention (representative: Prof. Cho Seong-don) had organized a prayer gathering here and was campaigning to prevent suicides, walking from the south end to the north end of Mapo Bridge and back again.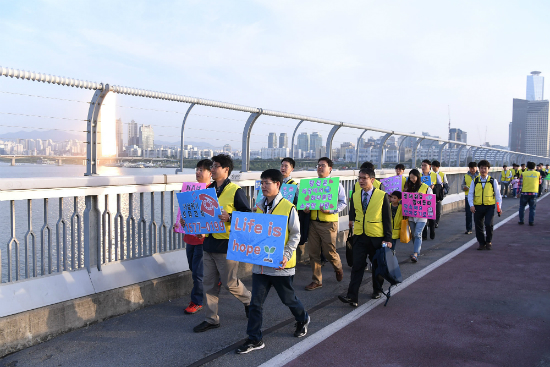 This was Life Hope's second time to come to Mapo Bridge, following its 2015 campaign here. Mapo Bridge is notorious as "the most popular bridge for suicidal leaps" among all the Han River bridges. Last year alone, it was the choice of 104 persons (32.5%) among the 320 who attempted to kill themselves by jumping off bridges.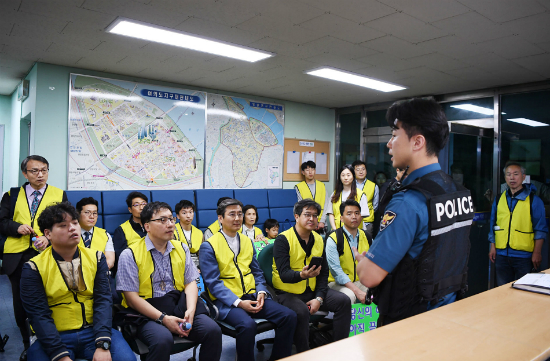 Then the participants headed to Yeongdeungpo Police Station's Yoido Patrol Division, which has jurisdiction over Mapo Bridge. Officer Kim Tae-wan explained, "Just yesterday, we saved a woman in her twenties who was trying to jump and end her life. We receive four suicide attempt reports daily on average, for Mapo Bridge alone." Even while he talked, a radio was reporting an attempt by two students to jump off nearby Wonhyo Bridge. "Because we have so many suicide-related incidents compared to other patrol divisions, our officers send texts to the survivors to say hello and to encourage them in various ways," said Officer Kim. He thanked the campaigners, saying, "Campaign activities near the bridge are like our supporters, filling the gap caused by the lack of human resources needed to prevent suicides."
Life Hope Representative Cho Seong-don advised, "If churches near those bridges with frequent suicide attempts can take the initiative to do regular patrolling and suicide prevention campaigns, it will be of great help in expanding a life-respecting culture."
Reporter Choi Ki-young (ky710@kmib.co.kr), with Yeara Ahn-Park (yap@kmib.co.kr)
Photo by intern reporter Zysu Song
Original Article in Korean:
"포기하려는 이들에게 '생명의 다리'가 되어주세요": 라이프호프, '투신자살 1위' 한강 마포대교서 기도회·예방 캠페인
Related Article:
"Korean churches must safeguard lives and prevent suicides"