"I cried, too. I'll continue praying for you." (Rev. Kim Dong-ho, God's Will Mission)
"Thank you, pastor. I was able to come this far thanks to the Bible text 'For it is God who is at work in you.' Whenever I have felt I was at a dead end or afraid, I have remembered this. Now I'll look ahead again. Please pray for me." (Director Suh Hoon, Korean National Intelligence Service)
This special message by NIS Director Suh Hoon (left), who is considered the main player behind the scene of the 2018 South-North Inter-Korean Summit, has caught public attention. Short but resolute, it is a testimony to his faith in God.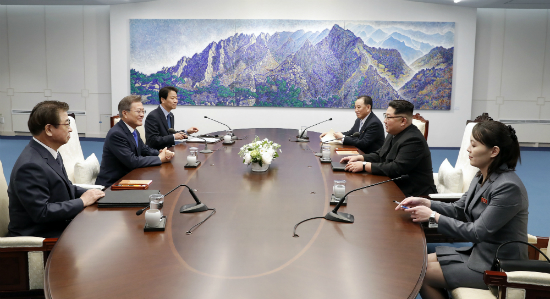 This message was introduced at the end of the sermon Rev. Kim Dong-ho posted on his Facebook page on May 1. Rev. Kim currently lives in the United States, and the sermon was for First Korean Baptist Church in Raleigh, North Carolina.
Kim wrote, "When he became the NIS director, I was happier than anyone else, and gave thanks to God. But I haven't met him since he took that position. I decided to just pray for him. I texted him a couple of times with words of cheer… And this time when I saw him crying (at the summit), I could understand his heart, and cried with him. Then I texted him."
On April 27 at the House of Peace, the South-North summit site in Paju, Gyeonggi-do, the press broadcast the scene of NIS Director Suh wiping away tears when President Moon and Chairman Kim Jong Un had just finished reading the Panmunjom Declaration. Deeply moved by this sight, Rev. Kim also shed tears, and sent a message to Director Suh.
The relationship between Rev. Kim and Director Suh is known to be that of pastor and parishioner. A few years ago when Suh was away from public service, Rev. Kim consulted with him in planning a North Korea-related mission. About this time last year, when Suh was appointed to the directorship of NIS, Kim texted Suh, "I'll pray a lot for you," upon which Suh replied, "I think all I need to bear in mind is that this is not what I do. Please pray for me that I don't go astray."
In his Facebook posting, Rev. Kim commented, "I hesitated for a long time over whether or not to speak about this private message of Director Suh, but decided to pass this on because now I think it's good to do so."
Reporter Jaechan Park (jeep@kmib.co.kr), with Yeara Ahn-Park (yap@kmib.co.kr)
Photos from Kukmin Daily DB
Original Article in Korean:
"막막하고 두려울 때마다 '내가 일한다'는 말씀 붙잡고 여기까지 왔습니다": 판문점서 감격의 눈물 훔쳤던 서훈 국정원장 '특별한 간증'