Since the April 27 South-North Inter-Korean Summit, the Korean churches are pushing ahead for exchanges and cooperation between South and North. The Presbyterian Church of Korea - Hapdong (PCK Hapdong; Rev. Jeon Gye-heon, moderator), the most conservative denomination, has announced a "Reunification Declaration" and is taking proactive steps for exchanges.
On May 1, PCK Hapdong announced its "2018 PCK Berlin Declaration of Reunification" in front of Brandenburg Gate, the symbol of German reunification in Berlin, Germany. In the declaration, PCK Hapdong proclaimed that it will work for South-North exchanges and support for the North, reunification education for the next generation, and the North Korean church rebuilding movement. PCK Hapdong also said it is taking steps to be registered with the Unification Ministry as a support organization for the North, for smooth and transparent activities in that area.
Vice-moderator Lee Seung-hui said, "Since South-North exchanges are getting back on track, we plan to carry out a denomination-level campaign to raise reunification funds."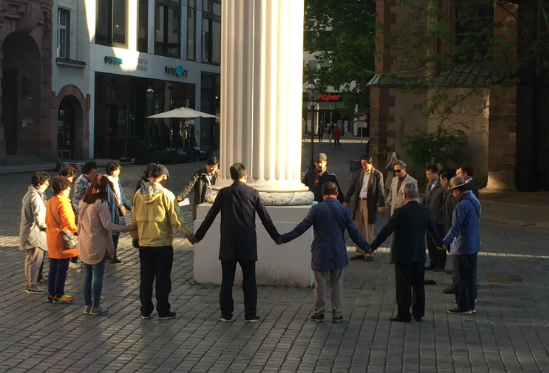 After the announcement, the PCK group also visited St. Nicholas Church in Leipzig, the origin of the prayer movement that contributed greatly to bringing down the Berlin Wall, and prayed for peaceful reunification of the Korean peninsula. Moderator Jeon Gye-heon (center in top photo) said, "I believe God's grace is present in the peaceful steps taken by the Inter-Korean Summit… Just as Jesus himself came down to this world to save the human race, our denomination will serve and sacrifice to the utmost for peaceful reunification in the Gospel."
On May 3, the Christian Network for Peace and Unification (CNPU; Rev. Park Jong-wha, board chair) announced its "Proposal to the Third South-North Summit and the Korean churches for establishment of reunification mission strategies," and urged churches, political circles and civil society to work together.
CNPU's proposal said, "The Korean church and Christian organizations have been pivotal in exchanges with the North… Now the new support projects for the North should be strategically carried out in the full frame of reunification mission." CNPU also proposed a roundtable meeting to establish a reunification mission strategy for the Korean church and to discuss a policy network.
To the National Assembly and political community, CNPU requested legislative approval of all the South-North agreements, from the July 4 South-North Korea Joint Statement to the April 27 Panmunjom Declaration. And to civil society, CNPU urged, "The discourse of withdrawal of the U.S. forces must not made in connection with the conclusion of the peace treaty… In 1988, the meaning of the "Declaration of the Korean Church on National Reunification and Peace" was much tarnished by the debates on withdrawal of U.S. troops from South Korea. As we witness the process toward realizing a peace treaty on the Korean peninsula and the establishment of diplomatic relations between North Korea and the U.S. and between North Korea and Japan, we should refrain from taking sides and engaging in debates that will once again divide our society."
Reporter Yang Minkyeong (grieg@kmib.co.kr), with Yeara Ahn-Park (yap@kmib.co.kr)
Original Article in Korean:
예장합동 "복음적 통일에 섬김과 희생 다할 것": 4·27 남북 정상회담 이후 교단·통일운동단체 논의 활기