On July 19, in the Hyechon Kim Hak-su Memorial Museum at Inje University, I met Christian paintings by Korea folk art painter Kim Hak-su (1919∼2009, elder of Zion Church in Seoul, photo). The paintings were donated by artist Kim himself. There is a special story behind his donation to Inje University in Busan of these works depicting Jesus and children. Kim Hak-su took care of war orphans while he, too, was a war refugee in Busan. That was the beginning of Hyechon (Kim's artist name) Society, the organization established in memory of Kim by war orphans he had helped, students, and colleagues.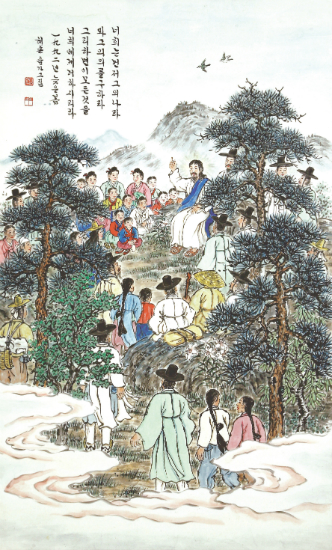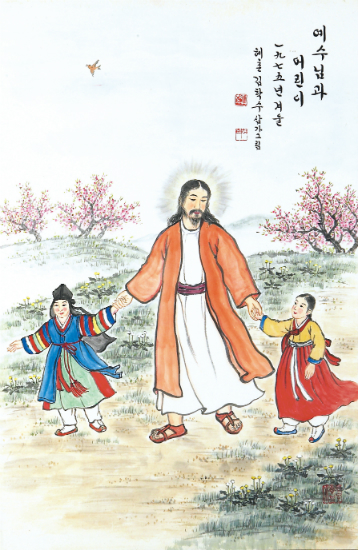 Artist Kim was from Pyongyang. The year after he was born, his mother had him baptized at Namsanhyeon Methodist Church in Pyongyang. His father operated a brush shop and made brushes, but even so it was not easy to pay for all the paper used by the young Kim, because he drew so much every day. During the Korean War, Kim sent his wife and children to stay with his wife's parents, where it was safer. Then when the United Nations troops retreated, he hastened to the South by himself. For the rest of his life, until he passed away at the age of 90 in Seoul, he lived by himself, missing his family in the North.
Instead of his own family, other children were at artist Kim's side. After moving to Busan in 1961, he helped establish Zion Church and set up a tent church in Choryang-dong. During the time he was enduring severe poverty as a refugee, he worked at Daehan Pottery Company in Yeongdo.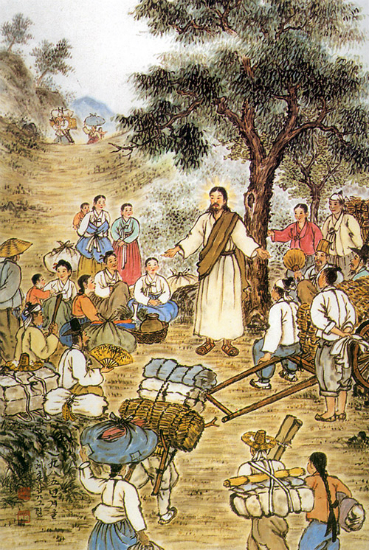 In a telephone conversation with Kukmin Daily on July 31, Elder Lee Seung-man of Daedeok Church in Daejeon, the president of Hyechon Society, said, "Heychon Society started with artist Kim. He painted on plates, and with the money he earned, he fed, bought clothes, and prepared a place to sleep for the war orphans. Dozens of pastors and theology professors grew up with the help of Kim, who was like a father for them." Elder Lee, too, lived together with Kim at his home until marriage. After graduation from Yonsei University, he was one of the first persons publicly recruited by Samsung Group. Lee was promoted to the position of board member at both Samsung and later at Lotte Group, and served Somang Church in Seoul as its first elder.
Hyechon Memorial Museum director and Inje University professor Park Jae-seop said, "I have never forgotten the framed Samnakdang (三樂堂, three joys) in his living room. I asked him, 'What are your three joys?' and he answered, "That I can paint, that I always have good people around me, and that through my Christian faith I live in God's grace and love."
Hyechon Memorial Museum is located at the entrance to Inje University library, the heart of the school. The exhibition includes Christian artworks and part of the 360-meter landscape painting roll "Complete Map of the Han River," which painter Kim worked on for 40 years. Museum curator Yu Eun-mi explained, "His 'Han River' is the longest landscape painting in Korea. For over 40 years, painter Kim explored the territory from Odae Mountain in Gangwon-do, the origin of the Han River, all the way to the river's mouth in Ganghwa, Incheon, in order to paint it."
Artworks by artist Kim are also displayed at Luce Chapel at Yonsei University, Seoul, and the Korea Church Martyrs Mission Association in Yongin, Gyeonggido. Kim, who was also a founding member of the Korea Christian Artists Council, donated all his artworks so that everyone can enjoy them for free.
Article and photo by reporter Woo Sungkyu (mainport@kmib.co.kr), from Gimhae, with Yeara Ahn-Park (yap@kmib.co.kr)
Original Article in Korean:
[발굴! 이 사람] 6·25 때 부모 잃은 어린이 사랑, 예수님 그림에 고스란히 담아: 한국적 풍속화 그린 김학수 화백