An exhibition commemorating the 100th anniversary of birth of "Juk Jae" Rev. Suh Nam-dong (1918~1984), who communicated Korean minjung theology to the world, will open on August 27 in the first-floor exhibition room at Centennial Hall, Yonsei University, Seoul.
Sponsored by the Society For Commemoration of the Birth Centennial of Rev. Suh Nam-dong, the exhibition is being prepared around the theme "Spirituality and Minjung Art." It will introduce more than 100 works by artists Kim Bong-jun, Park Eun-tae, Lee Yun-yeop, Im Eui-jin and Choi Byeong-su. Yonsei University College of Theology Dean Kwon Soo-young, who co-chairs the Commemoration Society, explained, "The works being exhibited coincide with the themes of minjung theology and minjung art, which were fruits of the fervent movement for democratization in the 70s and 80s, against the suppression of human rights." The exhibition will run till September 4.
In addition, the Commemoration Society will hold an "International Academic Symposium Commemorating the Birth Centennial of Rev. Suh Nam-dong" on October 10 at 3:00 p.m., in the worship room of Underwood Hall at Yonsei Uniersity.
*Photo: Artist Kim Bong-jun's "Candlelight Citizens' Revolution 5 - Day of Victory" (left) and "Cross of Liberation"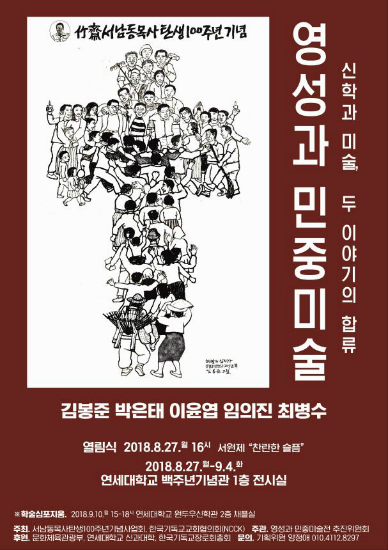 Original Article in Korean:
서남동 목사 탄생 100주년 '영성과 민중미술' 전시회