Reportedly, the composer of hymn no. 213, "Take my life," was not Wolfgang Amadeus Mozart (1756~1791) but Wenzel Moeller (1767~1835).
Former Yonsei University Professor Kim Myeong-yeop (74, photo), during a recent meeting with Kukmin Daily at the Church Music Academy, located on Yeonhui-ro in Seodaemun-gu, Seoul, pointed out, "The melody of the 'Kyrie' that is the first part of the 'Twelfth Mass in G major,' long understood to be a work by Mozart, is the same as that of hymn no. 213… In 2012, data was published in the Oxford University journal showing that Moeller composed the Mass in G major between 1791 and 1803."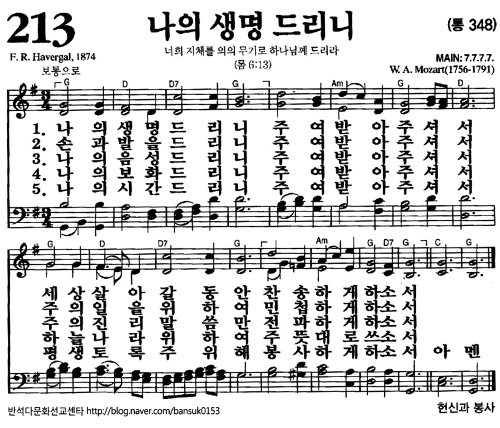 "If Moeller was the composer of the G major Mass, then of course a change must be made in the credit for the hymn 'Take my life,' which uses the same melody," Prof. Kim said. "With the exception of Wales, hymnals around the world credit Mozart for the melody of the hymn 'Take my life.' All of them including the Korean hymnal need to be revised." The mistake originated with the first publication of the G major Mass in 1819 by prominent English music publisher "Novello."
In 2012, records were discovered in a library catalogue at England's Oxford University, confirming that Moeller composed the G major Mass between 1791, the year Mozart died, and 1803. Since then, the Mass has been revised and republished as a work by Moeller, but hymn no. 213 and the choral work "Gloria" continue to be known as melodies by Mozart.
On October 26, the Seoul Bach Choir, directed by Prof. Kim, will hold a seminar concert on "W. Moeller's Mass in G major" at Bethel Chapel, Chungdong First Methodist Church, Seoul.
Article and photo by reporter A-young Kim (singforyou@kmib.co.kr), with Marion Kim (marionkkim@icloud.com)
Original Article in Korean:
"'나의 생명 드리니' 작곡가는 모차르트 아닌 뮐러": 김명엽 전 연세대 교수 "잘못 알려졌다" 추적 연구 통해 밝혀